President Greeting
To provide "Valuable Products and Service", and to be the "Only company" in the world is our first Priority.
The global environment is facing the serious problem of "overpopulation" which the population has grown from 6.1 billion people in the beginning of this century to 9 billion people over the next 50 years.
The Twenty-first century is set to be the era of coexisting of the Environment.
Therefore, it is necessary to face and solve the environment problems, such as the Greenhouse effect, Air/Water pollution, Environmental hormone, Destruction of Nature, Trash problems, and Food/Energy supply.
The Agriculture is not only to produce "Food", but also to attract people with its beautiful landscape, and to play the role of "Creation of the Environment" with healing effect.
We, Tiger Kawashima, for the first time since its inauguration in 1940, have supported the production field of food by the Valuable products and services, and have contributed to the society.
We hope to continue to receive your kind cooperation and aim to be the "Only one company" which will be able to serve and to create with a unanimous effort.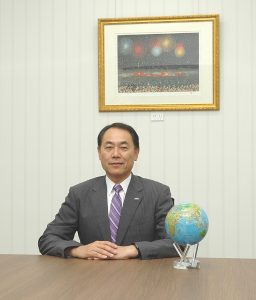 President and Representative Director:
Akimitsu Kawashima